Balaji Institute of Telecom and Management,BITM Pune
Description
Balaji Institute of Telecom and Management (BITM), formerly known as ICTM is run by renowned Sri Balaji University (SBU), Pune. The Founder & Chancellor of SBU, well known educationist, Dr. (Col) A. Balasubramanian is also the Dean of the Institute.
BITM was started in the year 2002 with a focus on the dynamic needs of the industry in general and the Telecom Industry in particular in an ever-changing business environment which is driven by powerful forces of technological innovation, intense competition and globalization. Quality education, rigorous training and the placements have helped this technology driven business school getting recognition in Management Education. It has been ranked among the Top 3 Telecom B-schools in India by 'Outlook '(dated September 27, 2004), 3rd Ranked Top B-Schools in Pune (Times of India B-School Survey, 2019) and amongst the Top 50 Private B-School in India for Placements by Outlook, Oct. 2017
BITM trains the student managers to become 'enablers' in tomorrow's world. It strives to transform individuals into dynamic, well-groomed and well-trained corporate citizens. The Institute is offering career-oriented Masters of Business Administration (MBA): in Telecom, Telecom & Marketing and Marketing & Finance. The students are compatible and enabled to join all the sectors of the industry and also to cater to the niche segments of Telecom Industry. It should be noted that BITM is providing managerial resources not only to telecom industry but also to varied industries for their Marketing, Operations, Systems, Data Analytics and Finance requirements. We prefer that the students of Telecom specialization should get Telecom related placements so that the full advantage of engineering is derived in the long run. As India is currently the 2nd largest telecommunication market and has the 3rd highest number of internet users in the world. The Indian mobile economy is growing rapidly and will contribute substantially to India's Gross Domestic Product (GDP), according to report prepared by GSM Association (GSMA) in collaboration with the Boston Consulting Group (BCG). The country is the fourth largest app economy in the world.Ranked first among the Telecom Management institutes in India by IndiaEducation.net
---
Course:

MBA (2 Years Full Time Course, Approved by AICTE, Ministry of HRD, Govt.of India).
Specialisation: Dual specialization in
System

Operation & supply Chain Management

Business Analytic

Telecom
---
NEW ADMISSIONS – IMPORTANT INSTRUCTIONS / INFORMATION
This Is A Committee Which Comprises Of All The Directors Of Sri Balaji University, Pune. The Committee Meets Under The Chairmanship Of The Chancellor, Sri Balaji University, Pune And Decides On Every Issue Related To The Day To Day Affairs Of The Students On Required Basis. Any Director/ Faculty Can Suggest Any New Initiative Which Can Be Introduced In A Structured Manner Initially In This Body So That Common Practise Are Maintained In All The Four Institutes. Before Presenting Such Initiatives To The HPC, The Director Or Professors Or Any Faculty Member Should Present A Paper To All The Members Of The HPC At Least 10 Days In Advance. All Such Initiatives / Issues Related To The Institutes Are Discussed In This Forum And Decision Arrived At, Are Implemented. The HPC Ensures That The Concept Of One Family And Following Common Practise Within Sri Balaji Society, Pune Is Strictly Followed.
Central Control Of Training And Grooming Up Process In Sri Balaji Society, Pune
Sri Balaji Society, Pune Has Now Achieved A New Milestone By Turning Into Sri Balaji University. The Directors Of The Institutes Are Basically Professors Assigned With Additional Key Roles & Responsibilities In The Interest Of The Students Of All The Four Management Institutes As Is The Case With Many Renowned Institutes Like IIMs. Each Institute Is Headed By A Highly Qualified Director Who Has Fully Qualified Faculties And Staff To Assist.
---
Eligibility:
Anyone Who Is Already A Graduate From Any University Recognized By UGC With Minimum Of 50% Marks (45% For SC/ST).

In Case Of MBA (Executive Batch), Candidate Should Have 2-3 Years Of Industrial Work Experience As A Full Time Employee In The Field Of Sales, Marketing, Human Resource, Finance, Operations, Systems And Related Areas Of Management In The Industry Is Eligible. These Applicants Should Submit The Industry Experience Certificate Signed By The Director (HR) Or Any Other Authorized Signatory Of The Company / Companies And Copies Of Their Appointment Letters Along With The Application Form. There Will Be No Difference In The Course Curriculum For This Batch And They Will Receive The Same Inputs As Applicable To The MBA Programs Except For The Fact That They Can Expect Lateral Placements With Higher Compensation Packages. Those Having Lesser Number Of Industrial Experiences Also Get Different And Upgraded Placements Depending Upon Their Corporate Experience Though They May Not Be Admitted To The Executive Batch, But To The Other Courses.

Relevant Work Experience Means Full Time Employment In Any Company And Not In The Family Business. It Also Means Working On Full-Time Basis On The Specialization Departments In The Company Such As Sales, Marketing, Finance, HR, IT, Operations And So On. Only Such Candidates Can Expect Differential Compensations Based On Work Experience. However The Selection Committee Can Look Into All The Other Type Of Work Experiences And Consider Award Of Marks.

Candidates Appearing For Any Final Year Degree Examination Up To June 2020 Can Also Apply. However, If They Fail To Match The Above Qualitative Requirement When The Result Is Declared For The Graduation Examination, They Will Be Relieved From The Course Compulsorily. Same Will Be The Case With Respect To Those Who Fail In Their Degree Examination, Which Means A Candidate Should Qualify His/Her Graduation Examination With A Minimum Of 50% Marks Latest By The Academic Year 2019-20. The Mark Sheets Should Be Submitted To The Institute Latest By 01 October 2020.

Medical Fitness Should Be As Explained In This Prospectus/Offer Letter.

Should Be Willing To Comply With The Rules And Regulations Of The Sri Balaji University, Pune As Explained In The Website.

Attested True Copies Of All Mark-Sheets And Certificates Of 10th Std., 12th Std., And Graduation. In Case Of Those Who Are Still In Final Year Of The Degree Course They Should Submit Mark Sheet Of The Previous Years.

Work-Experience Certificate (If Applicable).

Certificates Related To Extra-Curricular Activities (If Applicable).

Copy Of Caste Certificate In Case Of SC/ST Candidates.

That They Are Eligible For The Same. To Become Eligible, They Should Have Opted For The Institute(S)/ Course(S) (One Can Opt For Either One Institute/ Course(S) Or For All The Institutes/ All The Courses As Per His/ Her Order Of Preference As Marked In The Application Form) For Us To Consider Them.

That Vacancy Exists In Those Institute(S) For Such A Consideration.

That They Come Up In The Merit Of Scope Of Those Institutes / Courses.

Changes In Government Policies Where Applicable
Selection Procedure
Written Examination
We Accept CAT/MAT/XAT/CMAT/MAH-CET Scores. However, As CAT/MAT/XAT/CMAT/MAH-CET Scores Are Issued To The Students, Any Student Who Has Appeared For The CAT/MAT/XAT/CMAT/MAH-CET Examinations Can Apply For Our Courses With The CAT/MAT/XAT/CMAT/MAH-CET Scores. Thus, All The Four Management Institutes Will Accept CAT/MAT/XAT/CMAT/MAH-CET Scores. However, The XAT, MAT, CMAT, MAH-CET And Scores Will Be Equalized And Validated To The CAT Score Value And That Will Only Be Counted For The Purpose Of Merit List. It Is Not Necessary That These Scores Should Be Attached To The Application Form At This Stage. These Scores Sheets Can Be Dispatched So As To Reach Us Latest By 28th March 2020. Anyone Having Any Objection To The Same, Need Not To Apply. We Do Not Believe In Any Cut-Off Points As We Give Only 35% Of The Weightage For The Entrance Examination, While Making The Merit List.
Group Discussions Candidates Who Fulfill The Qualitative Requirements Will Be Called For The Group Discussions By Experts . This Will Be For A Duration Of 30-45 Minutes Per Group. This May Include Role Play, Case Studies And Extempore Speech And GD. 35% Of The Weightage In The Merit List Will Be Given To The GD Process. Therefore The GD Process May Extend To The Second Day Although All Efforts Will Be Made To Complete The Process In One Day. This Is An Elimination Round.
Essay Writing As Integral Part Of Interview Process. Written Communication Skill Is Very Important For Any One To Succeed In The Industry. Therefore, The Applicants Will Be Required To Appear For An Essay Writing Exercise On A Subject, Which Will Be Given On The Spot In The Selection Centres. This Will Be For 30 Marks And Fifty Percent Of The Marks Will Be Counted . This Essay Writing Will Be For Half An Hour. The Topics Will Be General In Nature And Any One Who Follows The National Newspapers Can Easily Appear For The Same And Score Good Marks.
Personal Interviews
This Expert Panel Interview And The Essay Marks Will Carry 30% Of The Weightage . This Panel Will Assess The Candidates On Various Parameters Including The Suitability Of The Candidate For A Particular Specialisation. The Panel Will Also Give Opportunity To The Applicants To Add Or Delete Course Options.
---
Fee Structure
(First Year)
(C) Fee Structure 2020-2022 (Second Year)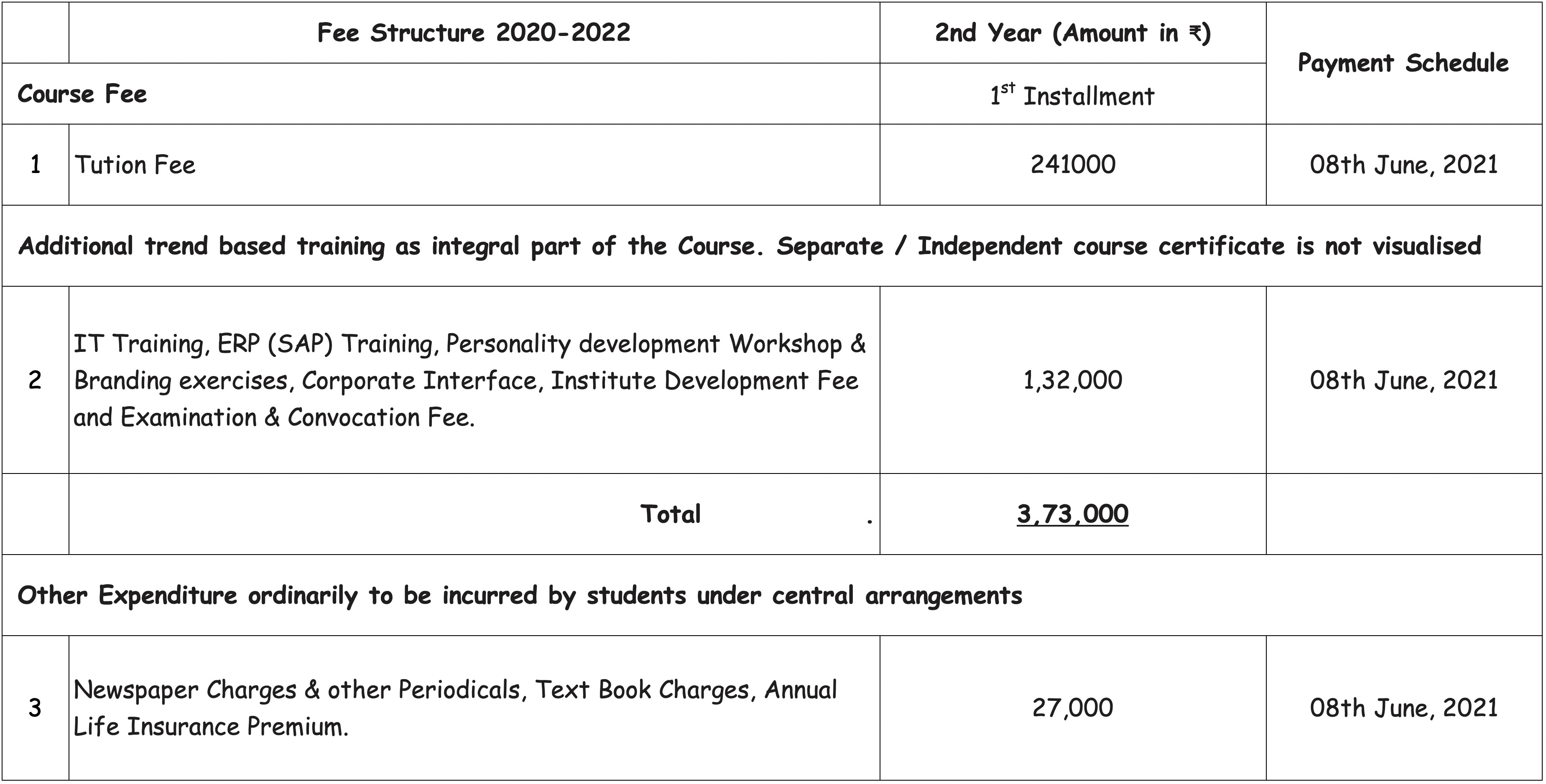 ---
PLACEMENT PROCEDURE
Dear Corporate Recruiters,
We Would Like To Invite You For The Placement Season, Scheduled To Commence From 8th December, 2019.
We Provide You An Opportunity To Recruit Well Trained, Well Groomed, Multi-Skilled, Multi-Lingual Student Managers, Who Are Mobile And Willing To Pursue Their Profession In Any Part Of The Country.
Student Managers Of BIIB Are Ready To Offer Their Multifaceted Skills To Become The Corporate Enablers.
Cycle Of Process:
The Entire Realm Of Chain Begins With The 'Season Invite', Undertaken By Our Student Managers, Both Juniors & Seniors, To Personally Invite Companies For The Upcoming Placement Season On Campus

Simultaneously, Invitations Accompanied With Our Brochure Are Posted To Many More Companies Requesting Their Presence.

You Can Communicate Your Requirements/ Intent To Select Our Students, By Either Of Our Communication Channels Or The Show Interest, Made Available Online.

As Per Your Convenience, Our Team Will Send You The Profiles Or The Curriculum Vitae Of The Students Interested, For Your Scrutiny & Short-Listing Suiting Your Criterion. You Can Choose To Conduct Your Process At Our Campus As Well, For General Discussion And Final Interview

Should You Choose To Visit Us, We Would Be Glad To Make Any Of The Logistics Arrangement, In Terms Of Your Travel To Our Campus Or During The Conduction Of The Process At Our Institute. However, A Pre-Planned Visit Would Enable A Smooth Conduction Of The Entire Process.

We Also Request You To Consider Our Students Approaching You For Projects/ Internships, And Avail The Training Under Your Able Guidance.
Highest Package: 14 LPA
Average Package: 6.5 LPA
---
Recruiters
A

A

ABG Group

ACC Ltd

Afcon Infrastructure Ltd

ALC India Ltd

Alfa Laval Ltd

Alicon Castalloy Ltd.

Allahabad Bank

Allcargo Logistics Ltd.

Alliance Tire Group

Allied Blenders & Distillers Ltd

Amrop International

Anand Corporate Services

Andhra Bank

Armstrong International

Arshiya International

Arvind Mills Ltd

Asian Paints Ltd

Associated Chemical Industries Ltd

Atlas Copco India Ltd

Atul Ltd.

Axis Bank

B

B

B. Braun Medical (I) Pvt Ltd.

Bajaj Allianz General Insurance Co. Ltd

Bajaj Allianz Life Insurance Co. Ltd

Bajaj Finserve Ltd

Ballarpur Industries Ltd.

Bank Of Baroda

Battelle India

Bector & Dikinson Ltd

Beroe Inc

Bharat Bijlee Ltd.

Bharat Wire Ropes Ltd

Bharti AXA General Insurance Co. Ltd

Big 92.7 FM

Biocon India Ltd.

Birla Sunlife Asset Management Co. Ltd

Blue Dart Express Ltd

Blue Star Ltd

British Paints Ltd

C

C

Capital IQ

Centena Group

Cholamandalam Investments & Finance Co. Ltd.

Chugoku Marine Paints Ltd

Citi Bank NA

Coffeeday Beverages

D

D

Dainik Bhaskar Corp Ltd

Darashaw & Company Ltd

Dei Papers & Pulps Ltd

Demag Cranes & Components Ltd.

Development Credit Bank Ltd.

DHL Express

Dishtv India P Ltd

DNA Ltd.

Dott Group

E

E

Edelweiss Capital

Educomp Solutions Limited

Eicher Motors Ltd.

Endeavour Careers P Ltd

Exide Industries

F

F

Federal Bank Ltd.

Fenesta Building System

Financial Planning Standards Board(I)

FINO

Fiserv India Ltd

Forbes Marshall Ltd

Ford Motors India P Ltd

Freight Systems Ltd

Future Group

G

G

GE India Industrial P Ltd

General Motors Ltd

GMMCO Ltd

GMR Group

Greaves Cotton Ltd

GroupM

Gunnebo India P Ltd

GVK Biosciences Ltd

H

H

Hariyali Kisan Bazaar

Havells Ltd

Henkel India Ltd.

Hettich India P Ltd

Hindustan Coca-Cola Beverages Pvt. Ltd.

Hindustan Motors Ltd.

Hughes Communications Ltd.

Hypercity Retail Ltd

I

I

ICICI Securities Ltd

IDBI Bank

Idea Cellular Ltd.

IDMC Ltd

IFB Industries Ltd

IMI Mobile

IMRB

Indian Bank

Indian Farmers Fertiliser Cooperative Ltd

Indian Overseas Bank

IndianOil Corporation Ltd

Indus Towers Ltd

Infiniti Retail Ltd

Ipsos Research P Ltd

ITC Hotels Ltd

ITW India

J

J

J K Organisation

Jindal Steel Ltd

JK Helene Curtis

John Deere Technology Centre

Johnson & Johnson Ltd

JP Morgan Services India Ltd

JW Marriott Hotels

K

K

K D Logistics Ltd

Kansai Nerolac Paints Ltd.

Karvy Private Wealth Management

KEC International

Kimberly Clark Ltd

Kotak Group

KPMG Ltd

Kraft Foods Ltd

L

L

L & T Finance Ltd

L & T Ltd (IES Div)

L G Electronics Ltd.

M

M

Magma Fincorp Ltd

Mahindra & Mahindra Ltd.

Mahindra & Mahindra Ltd-Farm Div

Mahindra Financial Services Ltd

Make My Trip

Manipal Group

Mather & Platt Ltd

Metafold Engineering P Ltd

MIRC Electronics Ltd

Morgan Stanley India P Ltd.

Mother Dairy Fruits & Vegetables Ltd

N

N

Naseba

Neeyamo Enterprises

New Holland Tractors Ltd.

Nielsen India

Nissan Motors Ltd..

NYKLine Logistics Ltd

O

O

Oberoi Group

OnMobile Global Pvt. Ltd.

Orange Business Services

Oriental Bank Of Commerce

Otis Elevators Ltd.

PQ

PQ

Philips Electronics Ltd.

Piaggio Vehicles Pvt. Ltd.

Pipal Research

Piramal Health Care Ltd

Pricewater House Cooper

R

R

Radiant Engineering Ltd

Radio Mirchi

Randstad India

Rasna International Ltd.

Reckitt Benckiser India Ltd.

Reliance Capital Asset Management

Reliance Communications Ltd

Reliance Industries Ltd

Reliance Infrastructure Ltd

Reliance Life Insurance Ltd.

Reliance Money

Reliance Retail Ltd.

Repro India Ltd

Royal Enfield Ltd

RPG Raychem Ltd

S

S

Sabmiller India Ltd

Sahara Asset Management

SBI Life Insurance Co. Ltd

SBI Mutual Funds

Schenker Logistics Ltd

Schindler India Pvt. Ltd

Shining Consultant

Sical Logistics Ltd

Sistems Shyam Telecom(MTS)

SKF Bearing Ltd.

Sodexo Pass

South Indian Bank Ltd

SRF Ltd

Standard Chartered Bank Ltd.

State Trading Corp Of India

STCI Primary Dealer Ltd.

Sterling & Wilson Ltd

Sundaram Clayton Ltd

Sundaram Fasteners Ltd

Suzlon Energy Ltd

T

T

TAFE Ltd.

Tam Media Research Ltd

Tata AIG General Insurance Ltd

Tata AIG Life Insurance Ltd

Tata Auto Comp Systems Ltd.

Tata Blue Scope Steel Ltd

Tata Chemicals Ltd.

Tata Communication Ltd

Tata Housing & Development Corporation

Tata Steel Processing & Distribution Ltd

Tata Teleservices Ltd

Tex Corp Limited

The Hindu

The Indian Hotels Company Ltd

The Leela Group

The Paper Products Ltd

Times Now

Titan Industries Ltd

TNS Global

TNT India Ltd

Transport Corporation Of India

TTK Prestige Ltd

Tufropes Private Limited

TVS Motors Ltd.

Tyco Electronics Ltd

U V

UV

UB Group

UCO Bank

UltraTech Cement Ltd

Union Bank Of India

Varroc Group

Vedanta Inc.

Videocon Industries Ltd.

Vijaya Bank

Viraj Steel Ltd

Visa Steel Ltd.

Vodafone India Limited

Voltas Ltd.

Volvo India Ltd

W X Y Z

W X Y Z

Welspun India Ltd

Wep Peripherals Ltd

Wipro Consumer Care Ltd

Yes Bank
---
Reviews
Total 4603 reviews on this institution