Great Lakes Institute of Management, GLIM - Gurugram
Description
Located in the industrial hub of Gurgaon, the second campus of Great Lakes was established in 2010 as a state of the art center of excellence. Conceptualized by Padmashree awardee, Dr. Bala V Balachandran, Professor Emeritus at Kellogg School of Management, led by an exceptional faculty, and steered by an outstanding academic & business advisory council, Great Lakes, Gurgaon has emerged as a top ranked Business School in less than a decade of its inception.
Great Lakes Gurgaon has received the prestigious AMBA (Association of MBAs) Development Network, accreditation for its flagship one year fast track MBA program – PGPM and two year PGDM program.
AMBA Development Network accreditation represents one of the highest standards of achievement in postgraduate business education and is earned only by the best programs in the world. This accreditation is the global standard for all MBA, DBA and MBM programs.
---
Course:
PGDM (2 Years Full Time Course, Approved by AICTE, Ministry of HRD, Govt.of India).

At Great Lakes, we seek students from diverse backgrounds with demonstrated track record of real world performance and ability to lead as we aim to build a community of empathetic business leaders. As a school we continue to innovate business education to add value, not only to our candidates but also to our corporate stakeholders and society as a whole. This is reflected both in our selection process and our pedagogy. The admission process is based on a comprehensive evaluation of the candidates on multiple dimensions encompassing personal and professional track record, academic performance, management aptitude and demonstrated competencies.

Valid CAT*/GMAT/XAT+/CMAT scores. For PGPM 2021, Great Lakes Institute of Management will accept scores of GMAT taken after 1st January 2017, CAT taken in 2018/2019, XAT taken in 2019/2020 or CMAT taken in 2019 A Bachelor's degree in any discipline from a recognized institution with atleast 50% in graduationA minimum work experience of two years by March 31, 2020Candidates with less than 24 months of work experience by March 31, 2020 can apply to the Great Lakes PGDM Program*Great Lakes uses CAT scores only for screening applications for admissions and IIMs have no role in the conduct of Great Lakes academic programs.+Great Lakes is not an associate institute of XLRI and uses XAT scores only for screening applicants for admission. XLRI has no role to play in the conduct of any of Great Lakes programs.

Application Cycles

Great Lakes PGPM has two cycles for admissions. The following are the applications considered in each of the cycles

Candidates with existing Test Scores - GMAT scores from 1st Jan 2017, CAT 2018, XAT 2019 and CMAT 2019 - can apply and be evaluated in Cycle 1. Their results will be available by first week of Jan 2020

Candidates not having eligible test scores but expecting results post Nov 30, 2019 but before January 31st 2020 can also apply in Cycle 1 and submit their forms pending the availability of their scores. Selected candidates will be interviewed based on their profiles in Cycle 1 Profile Based Early Interview process Learn more. These candidates will have to update their scores within 5 days of receiving their scores and will be considered for final offers post the score submission.

Cycle 2: Application Deadline - 31st Jan 2020

All candidates who have not applied in Cycle 1 but have taken eligible exams can apply in Cycle 2. The Cycle 2 deadline is 31st January and the interviews will be conducted in Feb 2020 with the first list results declared by end of the month.

Students who have applied in Cycle 1 without scores and not considered for Early Profile based Interview process will be considered for shortlisting for Cycle 2 calls post submission of the scores.

Candidates who have already planned to pursue their MBA for the next academic year are encourage to apply early as applying in Cycle 1 would allow candidates with scores and those shortlisted for the Profile Based Early Interview Process to get their results earlier than Cycle 2 and allow more time to prepare to join the program including taking care of financial, professional and personal commitments.
| | |
| --- | --- |
| Tuition & Academic Fee | 715000 |
| Program Fee | 424000 |
| Sub-Total | 1139000 |
---
Summer Internship Selection Process:
PGDM 2018-20 (1st Year Students):
Pre-MBA Experience: 36% with 0-24 months and 64% freshers.
Rolling process: From September 2018 - December 31, 2018
Internship period – 1st April to 30th June 2019 (3 Months)
---

Placement :

The campus placement process for the PGDM Class of 2019, witnessed another excellent season with 100% placements and participation from marquee recruiters from diverse sectors like Aditya Birla Capital, Barclays, Bristlecone, Cognizant, Chola MS, Crisil, Dell, Deloitte, Ford, HDFC Bank, Hexaware, HSBC Electronic Data Processing, ICICI Bank, ICRA, Infosys, ITC, JP Morgan, Karur Vysya Bank, Kotak Mahindra, Nestle, Novartis, Societe Generale, Virtusa, Wells Fargo, to name a few. The average CTC of the batch increased to 10.14 Lakhs p.a. and the median CTC increased to 10.25 Lakhs p.a. Students were offered roles across BFSI, Consulting, FMCG, Healthcare, IT/ITES, Manufacturing, Analytics, Pharma and Real Estate. BFSI (44.1%) was the largest recruiting sector followed by IT/ITES (27.9%), Consulting (10.8%), FMCG (8.1%) and Manufacturing (3.6%).

Key Highlight

Participation by diverse set of companies with excellent roles offered across Banking and Financial Services, Consulting, IT, FMCG, Manufacturing, etc. 22 studentswere offered PPOs/PPIs for their outstanding performance during their summer internship

BFSIcontinued to be the largest recruiting sector with 44.1% of the batch taking up roles in this industry followed byIT/ITES (27.9%), Consulting (10.8%), FMCG (8.1%) and Manufacturing (3.6%)

Sales & Marketingwas the preferred function with 35%followed by Finance with 23.4% , Analytics with 16.2%, Consulting with 14.4% andTechnology Consulting with 8.1%
Highest CTC 14.42 lakhs P.a

Average CTC offered for the Class of 2019 was 10.14 lakhs p.a. and median was 10.25 lakhs p.a.

Industry Classification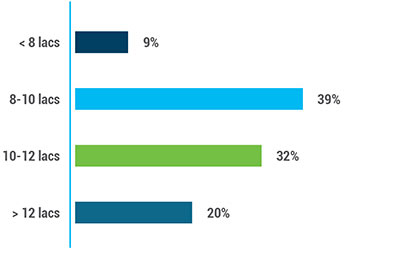 Recruiters
SECTOR

COMPANIES

ANALYTICS

eClerx, Gain Insights, i2Decisions

BFSI

Aditya Birla Capital, Barclays, Crisil, HDFC Bank, HDFC Life, HSBC, ICICI Bank, ICRA, JP Morgan, Karur Vysya Bank, Kotak Mahindra Bank, Marsh, Samunnati, Societe Generale, Wells Fargo

CONSULTING

Bristlecone, Deloitte USI, Deloiite India, GEP

FMCG

ITC, KALS Group, Nestle

IT/ITES

Cognizant, Dell, Hexaware, Infosys, NewWave Computing, Virtusa

OTHERS
(Pharma & Healthcare, Manufacturing & Real Estate)

Caplin Point, Chola MS, Ford, JLL, Kamal Healthcare, Lynk Logistics, Novartis
---
Reviews
Total 5603 reviews on this institution